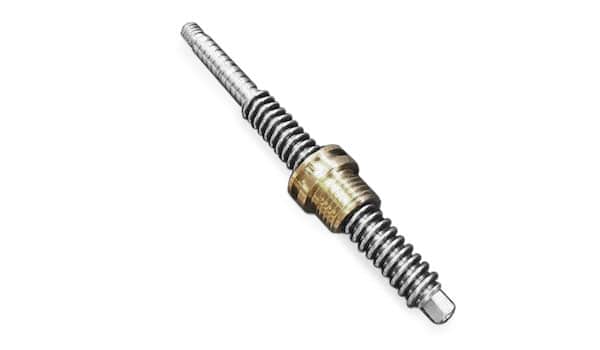 When tough material and cost effectiveness are required, our lead-screw assemblies will deliver results. Every time.
From plastic to brass, as well as imperial and metric lead screws and nuts, MTI Motion is ready to manufacture your assembly to meet your needs – including tight backlash requirements, if necessary. With thread rolling and thread grinding done in house, and a 3,000-plus die inventory at your disposal, your solution is in our wheelhouse.
Unlike most manufacturers, we roll our screws (including general purpose acme, centralizing acme and metric trapezoidal threads) for standard accuracy. Need something extra small or large? We're capable of rolling ball screws from 6 mm to 6 inches in diameter, with grade 5, 0.001"/ft lead accuracies. In addition to screw rolling, we also grind threads for tighter accuracy.
Acme
Acme screws are best suited for high-load, industrial applications. Generally used when low efficiency and positional accuracy are acceptable, they're better suited for applications with high static loads and those in which noise may be a concern, such as:

CNC machines
Jack screws
Lifting machines
Acme screw products provide a better load capacity and wear than a standard v-thread, and when using a bronze nut, can provide a similar load capacity to a ball screw.
MTI Motion's custom acme-screw capabilities are extensive, with applications ranging from major aerospace customers to even small manufacturers seeking a custom thread for the project.
As a made-to-order facility, each piece engineered at MTI Motion is designed to fit your needs and expectations of organizations on an individual level. Using your engineered drawing, MTI Motion can manufacture acme screw products complete, with end machining, heat-treated alloys and various plating. If applicable, we have the capability to manufacture the mating acme nut for any precision acme screw.
Depending on the needs of the assembly, we can manufacture acme screw threads in many materials and alloys, as well as diameters up to six inches. Acme screw threads may be rolled or ground as part geometry or tolerances require.
Buttress
Buttress thread forms, also known as sawtooth thread forms or breech-lock thread forms. are screw thread profiles with an asymmetric shape, having one square face and the other slanted. They're most commonly used for lead screws where the load is principally applied in one direction.
Trapezoidal
Trapezoidal lead screws have a flank angle of 30 degrees and are particularly suitable for use as drive screws. For fast movements, lead screws with large threads are the best choice, while small threads should be chosen for transmitting large forces.
V-thread
V-screw threads have a thread angle of 60 degrees with the bisector of the angle being perpendicular to the axis of the thread, and the crests and roots of the threads being lines formed by the intersections of the sides. They're commonly used for all places where fine adjustments with leads as fine as 0.0125" (0.3175 mm) are critical, such as microscope stages.
Get in touch with an engineer to discuss the next steps.

MTI headquarters
8201 109th Street, Suite 500
Pleasant Prairie, WI 53158
Privacy Policy
Terms of use
Contact